'Cleanse Tone and Moisturise ' has long been accepted as the golden rule of skin care. Deleting 'Moisturise' from your skin care routine is a little like having a 3 wheeled car…..the car would still run ok, albeit a little wonky, a little inefficiently and with an accident waiting to happen. Without this important third step in your skin care routine you'll find your skin being left " high and dry"!
That's not all as not only will your skin be less hydrated with fine lines appearing, it will also be more vulnerable when exposed to its changing environment, more susceptible to skin irritations and its crucial barrier function may be compromised.
definition; Moisturiser 
noun: moisturiser
A cosmetic preparation used to prevent dryness in the skin.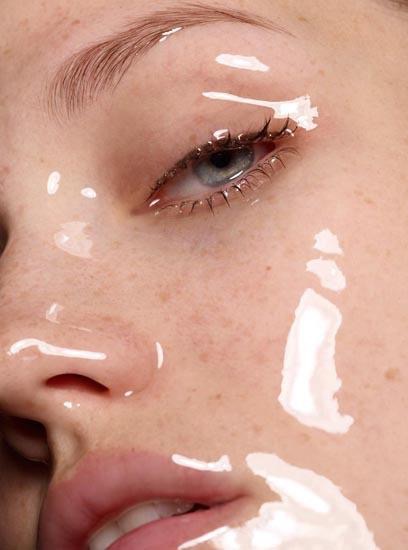 Our skin has it's own mechanisms in place to maintain hydration by secreting oils which help by trapping moisture within the skin.
The combination of hot water and soaps used when showering or bathing, can disrupt these mechanisms leading to dryness and dehydration.
Whilst personal hygiene is important (especially if you value friends), replacing these essential oils lost from everyday showering is vital in maintaining healthy skin.
Applying a moisturiser replaces the lost oils by providing a protective layer, stabilising the barrier function and increasing water content by reducing trans epidermal water loss(TEWL)  helping to keep our skin supple.
Job Opportunity,
Moisturisers need only apply!
Criteria-
Be willing & able to make my skin smooth and supple
Be willing & able to duplicate and enhance my skin's natural moisture retention mechanisms
Be gentle on sensitive skin types – & in particular experience in being hypoallergenic ,non-sensitising & non–comedogenic ( Non pimple making – important for acne sufferers)
Commence work promptly by being rapidly absorbed and fragrance free be proficient at carrying water binding agents called humectants
Must display excellent interpersonal skills and have demonstrated ability to communicate well with sunscreens & other skin nutrients

 The science behind moisturisers
 Trans Epidermal Water Loss [TEWL]
Trans Epidermal Water Loss is a measure of the amount of water that passes from inside our body to the outside through the epidermis – the skin's topmost layer. The water loss occurs via diffusion and evaporation and is continual and beyond our control. Disruptions to the skin's barrier system including cuts, scratches, burns and dry skin with diminished natural oils ( e.g. after water,soap and bathing) , can increase TEWL. It is also affected by environmental factors such as temperature, humidity and UV light.Factors that damage or insult skin increase water loss, leaving skin feeling dry.
Natural Moisturising Factor (NMF)
The role of the NMF is to maintain adequate skin hydration. The NMF is composed principally of free amino acids, inorganic salts, sugars, lactic acid and urea . NMF components are highly efficient humectants which are compounds that attract and bind water from the atmosphere and draw it into skin cells.Humectants are the weight lifters of the skincare world.Their hydrating properties and strength lies in their ability to hold between 600 -1000 times their own weight in water which increases the skin's moisture content. Where NMF is low the skin may appear dry and flaky . The NMF may be reduced by excessive bathing or exposure to UV light
 All class!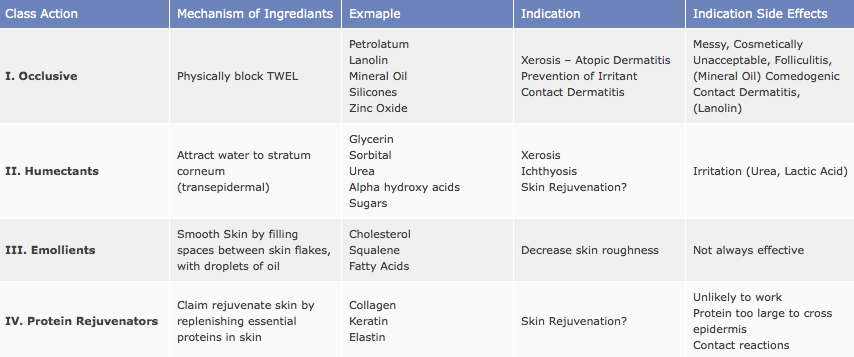 image retrieved from http://www.skintherapyletter.com/2001/6.13/2.html
A Match made in hydration heaven….
Tailoring moisturiser to skin type can mean the difference between good skin and great skin. Choosing the correct moisturiser depends on skin type, environment and specific skin conditions such as Acne.
Dry skin may appear flaky to the eye. Choose an heavier more occlusive moisturiser which prevents water loss from the skin
Oily skin is prone to congestion and blackheads. Choose a light moisturiser which includes exfoliating acids such as salicylic acid and humectants which will attract water to the skin.
Sensitive skin is susceptible to skin irritations and rashes. Choose products which are fragrance and allergen free.
Mature skin becomes drier so choose a more occlusive moisturiser combined with anti-aging ingredients will help to prevent moisture loss.
Normal skin contains a normal moisture balance. Choose a moisturiser which is light and maintains the hydration in the skin.

What's in a sample?
 Unfortunately not all cosmetic companies go to the expense of providing samples of their product but they're a great way of testing suitability. When they are available they contain 3-4 days worth of application which is more than enough time to observe whether any adverse reactions are likely to occur. Tip: Apply on the inside of your forearm.
Should we expect more from our moisturisers?
Absolutely !
The savvy cosmeceutical industry are all over this! Cosmeceutical companies are responding to the needs of consumers who want to streamline their skin care routine whilst seeing results. But cosmeceutical companies don't have a monopoly on being savvy. More than ever consumers are time poor, results driven, and demand 'actives' to be included in their skincare.The humble moisturiser becomes a multi-tasker tasked with maintaining balanced epidermal hydration and being an anti-ager, repairer and protector.
Additionally doubling up your daily moisturiser with a suitable SPF makes for economical and sensible skin care.
Don't be left high and dry!
Choosing moisturiser to skin type is key. Correct diagnosis by a skin health professional tailored to your skin's needs will save you dollars and potentially skin irritation not to mention an healthy and hydrated skin!
Need more specific advice, head to www.ASKinsolutions.com.au and ASK away?