Or do we?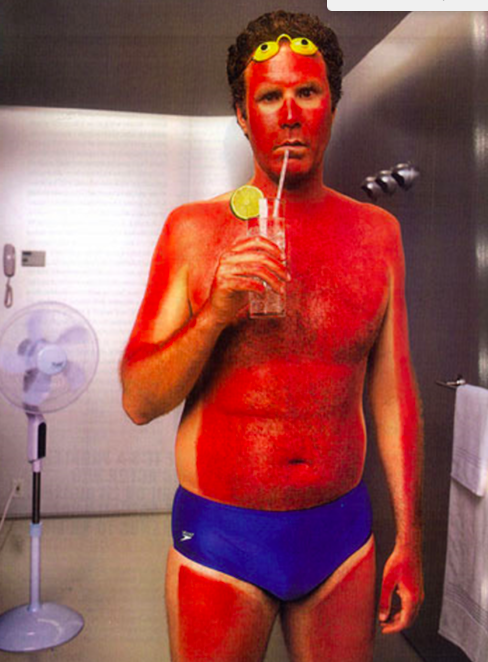 As the doting mother of 2 teenage tennis playing/surfing girls my neverending refrain of "hat and sunscreen",  has finally been heard/understood/acknowledged  by my teenage daughters. I've also inadvertently serenaded the  neighbours with my suncreen rap. Proving more of a challenge is their non compliant , sun loving father who may  require more training or perhaps a cochlear implant!
 Many of us will be diagnosed with skin cancer in our lifetime, but there's plenty we can do to lessen our risk.I'll talk about that in a moment.
First some sobering stats…
 Australia has the highest incidence of skin cancer in the world despite  many successful sunsmart campaigns.
Are we desensitised, and is the message still seeing us remembering to lather up? As sunloving Aussies are we sticking our heads in the sand, and assuming the attitude of "it wont happen to me or anyone i know" and "She'll be right mate"?
In reference to my Meatloaf loving friend,  two outta three ain't bad………….
 Well maybe it was ok for Meatloaf but to think two out three  Australians will be diagnosed with skin cancer by the age of 70 has me "crying icicles instead of tears"-urgh!. For many of us 70 may feel a long way off, as did turning 50 for me, but it crept up quick and fast, so it's an accurate prediction a lot of us will be diagnosed with a potentially life threatening skin cancer.
 I'm part of this statistic after being diagnosed with a number of lesions including  squamous cell carcinoma and  basal cell carcinoma. Statistics show I'm not alone and this is not a group encouraging joiners. These lesions are a result of a childhood spent on  beaches and in backyard pools lathered in baby oil chasing the elusive deep rich golden tan which thanks to my Celtic forebears would always remain elusive. Dont get me wrong I still love a rich golden tan, and nothing screams "healthy " louder than a tan, but I now safely  worship at the alter of a spray tan booth!
 Thankfully tanning beds have fallen foul of favour as the research shows the use of tanning beds prior to the age of 35 accelerates the risk of melanoma by a staggering 59%.
Over 2000 Australians are treated for skin cancer every day. Do these  mind boggling statistics shock us into  being smart when exposed to the sun ? The increase in rates of diagnosis of skin cancers  suggests not. If those statistics dont shock us into protecting our skins, the latest statistic including the under 25's might.
Melanoma is the number one cancer killer of this group!
 What about Vitamin D?
Yes, vitamin D is important for overall health but for the majority of skins, walking to the car, or simply hanging the washing on the line can achieve the required exposure. Mental equation…..Susan x washing for a family of 4 = synthesising enough Vit D for South East Queensland!
Lets talk about sunscreens.
A physical sunscreen is one that contains zinc or titanium dioxide which  forms a barrier on top of the skin,which reflects and scatters UV rays  preventing it passing through to the deeper layers of our skin where it can cause damage. Activity and towelling off after swimming removes  sunblock so re-application is vital.
 A chemical sunscreen  interacts chemically  within the skin to form a protective barrier. Sunlight is deactivated and degraded after coming in contact with the chemicals in the sunscreen. A chemical  sunscreen must be applied 20 minutes prior to sun exposure for it to be effective and reapplied  throughout the day. Your skin has a natural SPF, partially determined by how much melanin your skin contains, that is, how darkly pigmented your skin is, but don't rely upon this for protection from the sun. The SPF is a multiplication factor. If you can stay out in the sun 15 minutes before burning, using a sunscreen with an SPF of 10 would allow you to resist burning for 10x longer or the equivalent of  150 minutes.
"Sunscreens should be viewed as an add on to protective clothing not a substitute," according to The Australasian College of Dermatologists .There is an armoury of suncreens out there and the decision between a physical and chemical suncreen really depends on your lifestyle.
 Broadspectrum sunscreen  contain a combination of both chemical and physical sun protection. These are your best bet as they cover all bases.
The best sunscreen is the sunscreen you will use!
If you would like further information on skin cancer or sunscreens please visit www.ASkinSolutions.com.au  under our Resource banner or direct a question under our Ask banner.