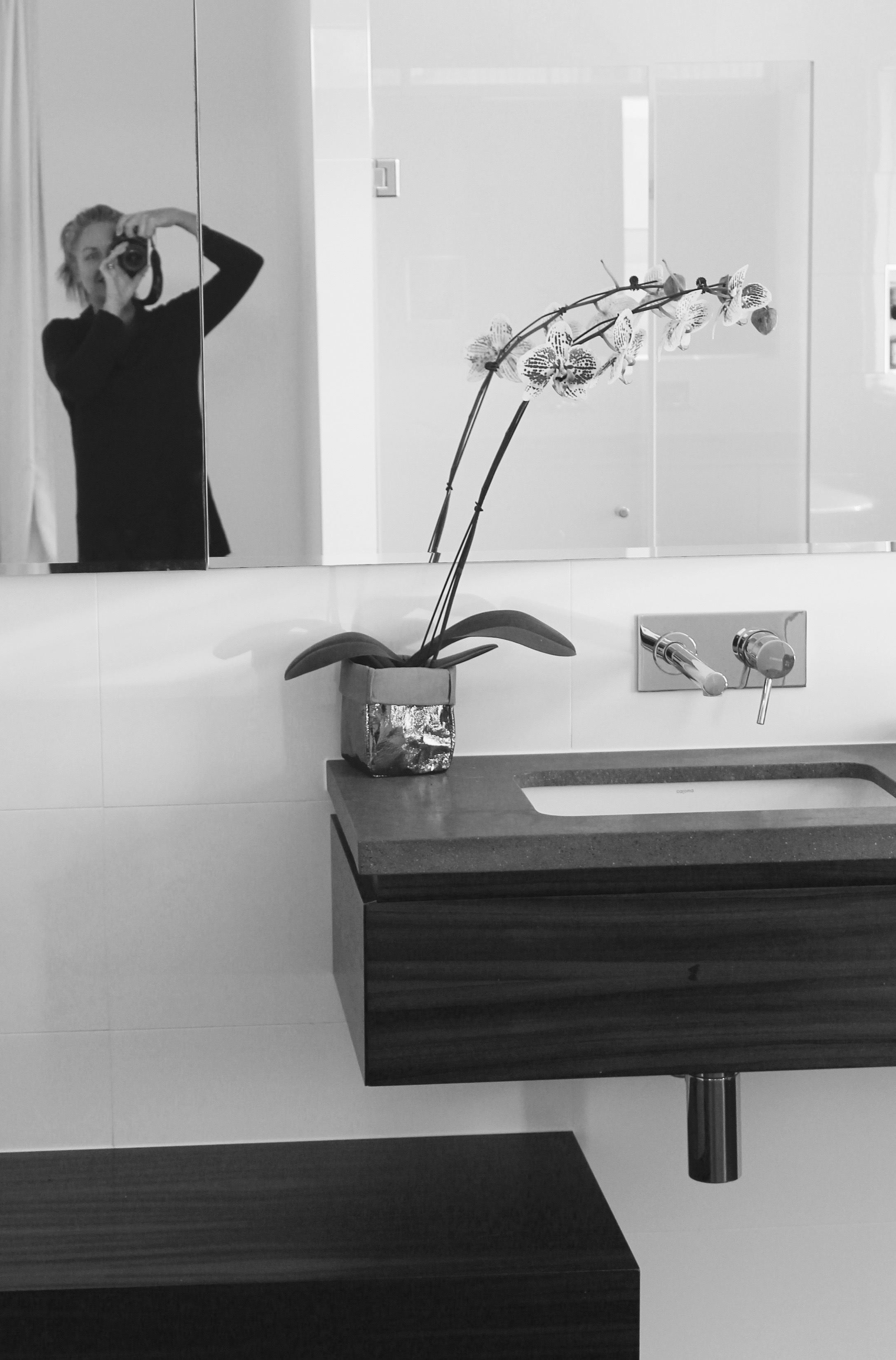 This month I'm getting down, dirty and a little bit personal, opening my bathroom cabinet with a peek inside my personal skin care toolbox, with a little too revealing of my no fuss, no muss approach to skin care.
As a Dermal Clinician and skin health professional I'm sharing my daily skin care diary with a glimpse into what a skin health professional does (or rather doesn't do) to keep her skin healthy and looking it's best…..you may be surprised!
You won't see a bathroom cabinet heaving with products. I maintain a simple skincare philosophy; combining ingredients that deliver results, backed up by scientific evidence. My message of Keeping Skincare Simple is what works best for my skin.
Acknowledged or otherwise,  being on the front line of skincare/skinhealth means there are pressures to maintain and present a happy, healthy skin…. after all,  you wouldn't go to a dentist with bad teeth would you?
My minimalistic streamlined approach to skincare was born from lack of time with a splash of laziness – no Robinson Crusoe here – so what little I do do for my skin needs to be both effective and time efficient and able to treat the visible signs of ageing, of which there are a plenty….I'll get to that!
You would expect and assume, with my background in skin sciences I'd have this 'skin thing' all sown up, with the perfect formula for radiant, glowing and youthful skin at my fingertips. As they say, 'careful, assuming makes an ASS out of U and Me' and it not  surprisingly, I don't always have the perfect skin 100% of the time. Yes, being a Dermal Clinician means I have the skills and resources in my skin care arsenal to know what works and what doesn't when treating my own skin, but there are times when my skin doesn't always play nice!
Under the magnifying lamp…
With my Dermal Clinician  hat on, there's no denying that this more than middle aged woman is suffering from the effects of the visible signs of ageing, due in part to a misspent youth on the beaches of Sydney. Pigmentation/ skin laxity/increasing dryness together with the occasional spot and ohh, my arch nemesis – fine lines and 'wrinkles at rest' all combine to produce the visible signs of ageing. They're referred to as 'wrinkles at rest'  because they remain permanently etched long after that last laugh… well, find a seat somewhere else!
Whats in that cabinet….
Morning routine
I use a gentle Cosmedix oil based cleanser –  Purity Solution morning and night as I find this to be the most efficient in removing makeup and dirt. I tend to steer away from foaming cleansers as the lauryl sulfates needed for foaming to occur are a bit drying on my skin.
2-3 times a week and in the shower I exfoliate with Clinicians Complex Microdermabrasion Cream which contains fine magnesium oxide crystals helping to remove a buildup of dead skin cells.
You can never have enough sun protection so I use a broad spectrum UV sunscreen doubling as my daily moisturiser…..might be a little lazy but it does the job!
 Colour Science manufacture a 'Sunforgettable' mineral based powder with 50+sunscreen –  water resistant , great when exercising.
Night-time weapons
 I repeat my cleansing ritual using a face washer which helps to exfoliate.
Whilst my skin is still damp I apply SkinMedica Vitamin C+E Complex serum which I allow to absorb-approx 1 minute (taking up almost ½ of my allocated routine)
This is followed by a prescription strength 0.05% Vitamin A – commonly known as Retrieve
Tip; Vitamin A and Vitamin C are best used at night as they're  oxidized by air and light.
If I extra moisture is needed i reach for Cosmedix Rescue Balm/Mask which can be left on overnight – this can be quite occlusive and not for everyone but I love the thick texture and how hydrated my skin feels in the morning!
Tip; Don't forget your neck and décolletage – extend product onto these areas as they're often exposed to the sun.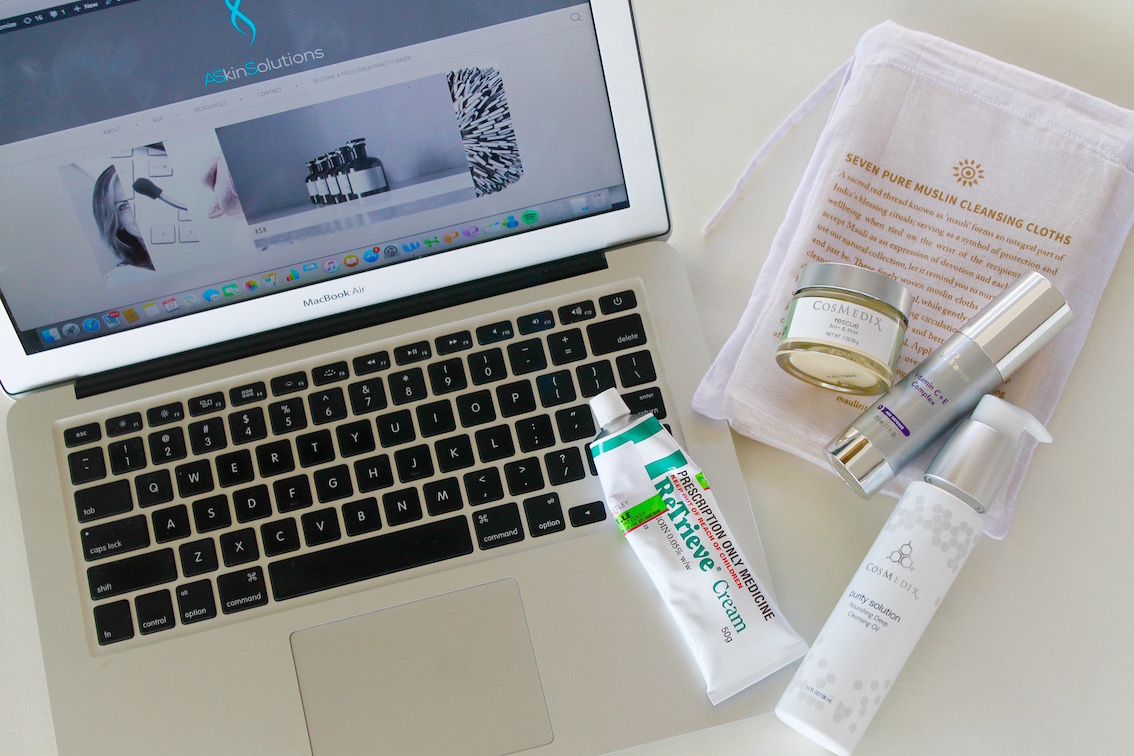 And with a little help from my friends…
Bi-annually I enlist the help of my colleagues for some IPL keeping pigmentation and redness under control.
I'm a fan of medical grade peels which resurface the skin. Both these treatments involve a little downtime but are well worth it when chasing a more youthful even skin tone.
I've made friends with muscle relaxants and dermal fillers but less is definitely more, when it comes to muscle relaxants and dermal fillers.
What I should do more of…..
Eat less sugar –sugar causes inflammaging –a low grade chronic inflammation at the cellular level and sits alongside the sun as one of the causes of aging and in the aggravation of acne.
2. Drink more water- this hydration calculator will help you assess if you're drinking enough water
3. Exercise more- – exercise helps to reduce cortisol, the hormone released when we're stressed.
I plan on ageing disgracefully …. those visible signs of ageing are in for quite a fight… glove up wrinkles and pigmentation – I will not go quietly!
Disclosure :Lastly I'd like to mention this post is my personal skin diary as a Dermal Clinician and I have  included products I have purchased and found to be effective…..also no animals were kicked or maimed in the writing of this post!