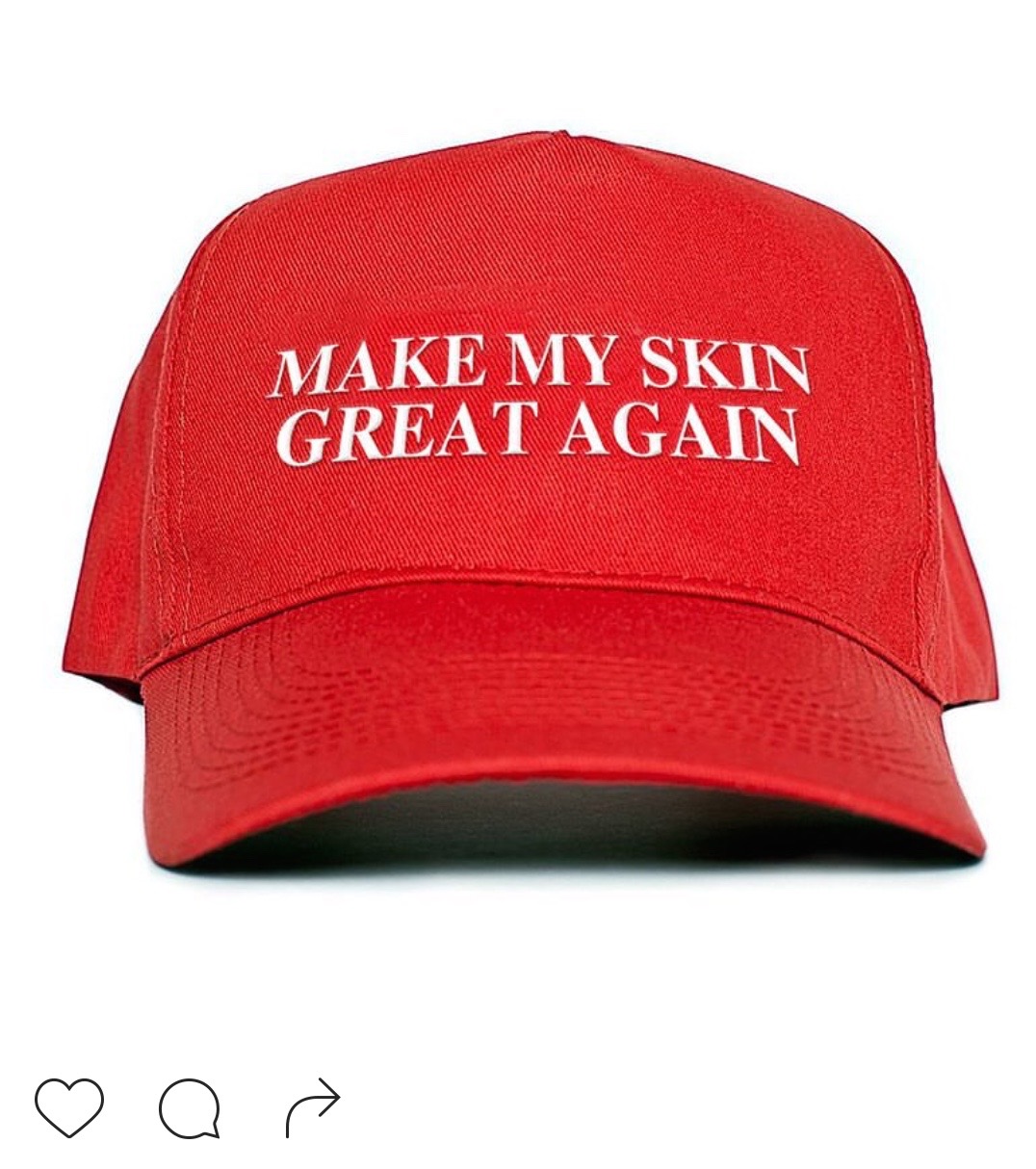 Well I never.…. who could have predicted America's political #trumptastrophy…and I didn't,  as didn't a lot of other people?
Judging from my Instagram feed and the media fallout post election, most people are incredulous at the unexpected outcome of the American Presidential campaign.
I, alongside many other people, sit mouth agape, amongst  the campaign carnage, perplexed and amazed at how 'the Donald' actually 'Trumped' his way to victory?
In my mind, @HellYeahforHillary was going to romp it in, but now both Hill and I are having to 'fall on our swords' and, 'concede defeat. Obvious now I  didn't tip the winner and with the benefit of hindsight, I'm graciously withdrawing from my inaccurate forecasting  of American politics, taking a tip from the universe and sticking to what I do know. Skin!
Instagram users have an insatiable appetite for skin care  tips and like the American staple of buffalo wings with blue cheese dressing: one is never quite enough is it?  Bring on #SkinTipTuesdays!
Instagram SkinTipTuesdays are where I feed practical tips and science, evidenced based skin care advice, to those devoted to all things skin, on Instagram. Tips which deconstruct and demystify the 'smoke and mirrors' surrounding skincare, helping you get more bang from your skin care buck.
So 'Skin Up', back  away from those buffalo wings, and console yourself with a generous serving of  my  favourite  #SkinTipTuesdays Instagram posts…… reliable, winning tips with a 'proven projected' outcome !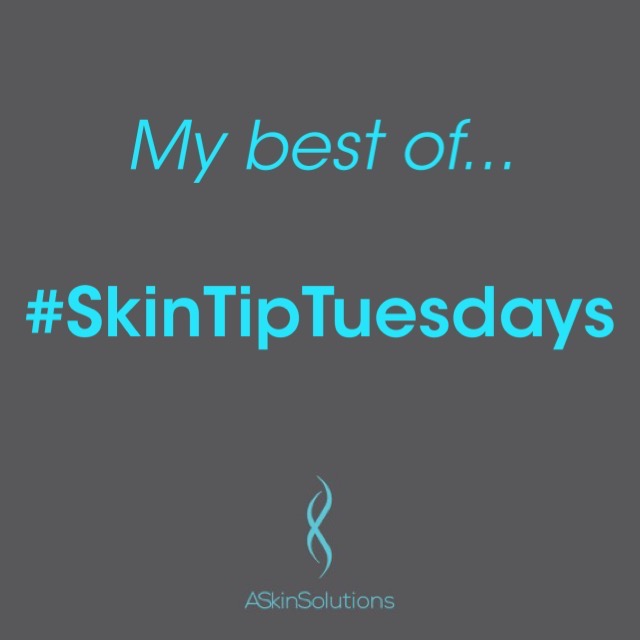 16. 0f My Top #SkinTipTuesdays 2016!
Hydration is what keeps the cellular processes in our body functioning optimally. For every alcoholic drink your body expels 4 glasses of water! Its recommended to alternate every 1-2 alcoholic drinks with a glass of water
2.Your lips are often a good indicator of when your skin needs more moisture.
If your lips are feeling a bit dry, humidity may have dropped and it might be time to add more moisture into your skincare routine.
3.Keep EYECREAMS in the fridge!
Not only does it extend the shelf life of the product, it is soothing whilst having a vasocontricting (tightening) effect on blood vessels helping to reduce redness and puffiness.
4. Vitamin C is a potent antioxidant, important for skin health.
Vitamin C is very unstable when exposed to air and light, turning a brown/orange colour. Any skin preparations containing Vitamin C or Ascorbic Acid which have discoloured should be discarded. This means they've oxidised and cannot provide any skin benefits! Tip;Use your vitamin C at night!
5.When performing your routine skin checks for skin cancer, Ensure the skin underneath TATTOOS are thoroughly checked as they can disguise new skin growths and moles especially if the ink is dark!
6.Avoid using over-the-counter skin care products containing RETINOL and prescription retinoids
Discontinue Vit A derivatives two to five days prior to waxing.Vit A increases photosensitivity  in the skin creating an increased risk of burning when exposed to UV light  and light based treatments, and also helps to reduce the risk of removing skin along with hair when waxing.
 Isotretinoin is still the gold standard when treating Acne Vulgaris. A new study shows the combination of isotretinoin together with antihistamines have a significant decrease in acne lesion counts, sebum, erythema and side effects such as dry skin and mucous membranes caused by isotretinoin.
8. To B3 or not to B3?
Cosmeceutical companies are taking advantage of the many benefits of Vitamin B3. In skincare products you'll recognise it as niacinamide, nicotinic and nicotinate esters. Niacinamide is most commonly used as it's able to penetrate the skin without causing irritation.Some of It's many benefits include;• enhances barrier function • helps reduce sensitivity and irritation • acts as a skin lightener- preventing the transfer of melanin to skin cells • helps to reduce fine lines and wrinkles • helps to reduce the onset of Actinic Keratosis We should definitely B3ing!
9.Get the best out of your products by knowing when to use them, it's all in the timing!
✔️AM || use products containing sunscreen and antioxidants.
✔️PM || Retinols and richer more nourishing products.
10. Lets get Fruity
Fruit enzymes are used in 'exfoliators' to help remove superficial layers of the skin,improving texture, hydration, pigmentation and assisting in the absorption of companion skincare products. Types of enzymes used include bromelain- derived from pineapples, and papain – derived from papaya; allergies from papain are very common so it's a good idea to patch test prior to use. Tip || Test on the inside of the forearm once a day for 3 days, checking for any redness or irritation….any irritation will be your stop light!
11.Get more out of your products by applying to damp skin-helps skin absorption and easier application.
12.October is breast cancer awareness month and a good time to remind us all to check our breasts regularly. Something else to look out for are changes in skin colour and texture.
When the lymph vessels that help our bodies fight infection become blocked by cancer cells, they can cause the breast skin to change in colour and texture. Redness, swelling, itching, scaling, dimpled or skin which becomes puckered are signs you need to get checked …just saying!
13. Retinols/Retinoids/Vitamin A are all degraded by light or when exposed to air.
In order to maintain product efficacy correct packaging is important, that is; a pump which reduces oxidation when exposed to air or metal packaging preventing light degradation. A shelf life of 6-9 mths can be expected.
A common misconception is that wounds should be air dried and a scab allowed to form. Recent studies now confirm that keeping wounds moist and covered with dressings not only reduces pain and the risk of infection but also results in faster healing times when compared to dry wound healing.' ….busting a myth from my recent blog in SCAR FREE || TREATMENT OPTIONS FOR SCAR MINIMISATION EXPLAINED!
 15.  If your skin care products are packaged in a pot,,inhibit bacteria growth by using a spatula rather than fingers when applying to your face!
 Here's one of my helpful tips from an older blog post – apply sunscreen 20-30 minutes before you go into the sun and then again 15-30 mins after sun exposure begins – this is the key to protection! Titanium and zinc based sunscreens offer immediate protection.
If you've developed an appetite for #SkinTipTuesday come join me on Instagram every Tuesday, I'd love to see you!
Susan x